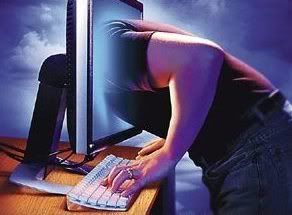 By 2008 I was moving totally in a digital direction.  I had transitioned one of my F2F courses to a fully online course to try it out.    The LMS was becoming more useful in that context and now everything was "paperless".  I was beginning to see my role in the classroom as the one providing context to the information and helping the students make the connections between what was being covered in the class to the real world.   I embraced that role by bringing more and more of the digital world into the classroom.  I started by providing more links to information that would not only supplement student learning, but might actually even better engage students as I came across it myself.  I began to see my students (especially the visual learners) really embrace this new content as well.  And it seemed more and more of them were visual learners.  They learned as much from a video as any textbook that could be provided.
By 2010 I started to realize that although all of this information was great, students were actually overwhelmed by the amount of information out there available to them.  If learning was the equivalent of putting a puzzle together, they had so many puzzle pieces they couldn't even figure out which puzzle each piece would fit into and they certainly were not seeing the big picture.  Many of those puzzle pieces they were discovering on their own with no context or foundation to help them.  Students had lots of opinions, but not really 'informed" opinions or beliefs.  So the information age, although great for information, has on some levels made "learning" more difficult just due to the vast amount of information out there.  It's also made it really easy to "surf" instead of "dive" into the information, which often breeds a "no critical thinking necessary" mentality.  Our society appears to be propagating this mentality as well.
Then the question became, "How can I help my students navigate this proliferation of digital resources, keep them engaged, bring context into the conversation and make it all social?" The answer I found wasn't out there.  So I co-founded TheHubEdu.  I was finding it difficult to manage and organize all of these great resources and serve them up in a simple way for my students.  I wanted a space where I could interact with my students and colleagues in a social, yet educational context; a space that wasn't locked down to a single university.  TheHubEdu bridges the gap between the LMS's and popular social media sites. A social learning network.   It's a start for certain and one that can support the shifting role of the university professor to vet and provide some context to all of the information to which students are currently exposed.